The new Netflix series Sex Education features an important subject which other series never dared touch upon:
The complexity of male sexuality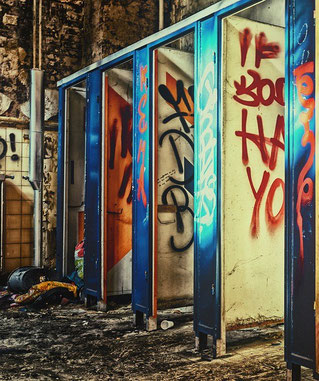 Adam (played by Connor Swindells) can't ejaculate. Too much is going on in his head. The pressure is too high. So he fakes an orgasm which his girlfriend realises immediately.
Teenage "sex therapist" Otis (played by Asa Butterfield) diagnoses Adam's problem as performance anxiety. He himself, the son of a sex and relationship therapist, can't masturbate and is massively afraid of sex which doesn't stop him giving (actually rather good) sex advice to his fellow students.
Otis' best friend Eric (played by Ncuti Gatwa) is figuring out how to combine his homosexuality with his African heritage. He is pretty confident about his sexuality, but bullies, including Adam, are making life difficult for him.
These three key male characters in Netflix's Sex Education are all struggling with their sexuality or with society's response to their sexuality (as in the case of Eric).
You might think that this is exactly what we can expect if a series is called "Sex Education", but I am pretty sure that a couple of years ago, a series about teenagers wouldn't have dared touch upon the fragility and complexity of masculinity and male sexuality. For those who haven't seen Sex Education yet, please don't think that women and their sexualities aren't represented. They are. They're just not the subject of this article.
The achievement of a male orgasm seemed like a piece of cake to me. This still seems to be a common myth.
I remember a conversation I had with a friend's boyfriend when I was about 18. In my naivety I talked about the complexity of female sexuality and the easiness, the straight-forwardness of male sexuality. The achievement of a male orgasm seemed like a piece of cake to me. He got really upset and told me that men also fake orgasms, aren't always in the mood for sex and that it certainly isn't easy always to have an erection when wanted. I remember how uneasy I felt. I had been so sure that sex was somehow easier for men than it was for women.
This still seems to be a common myth.
And one of the reasons this myth exists is that Western media mostly shows one type of masculinity and that is hegemonic masculinity. As sociologist Raewyn Connell explains in her book "The men and the boys" (2000) hegemonic masculinity is "the most honoured or desired form of masculinity" (p.10). A good example are sport superstars. So hegemonic masculinity does not actually represent the experience of the majority of men, but since it's highest in the hierarchy of masculinities it's what many people think of as "real" masculinity. In order to fit into this category men have to be "strong, active, powerful, authoritative, hard, aggressive, violent, competitive and rational, and lacking sensitivity and emotions" (Milestone and Meyer 2012, p.114). And I would add heterosexual.
celebrating the decline of "traditional values"
Fortunately, times are changing and Sex Education certainly is proof of that. Men are allowed to struggle (like Jackson in the series), they are allowed to have feelings and fears, they are allowed to make mistakes, they are allowed to be human.
Yes, I know you might say that there is a backlash going on, which for example some of the reactions to the new Gillette ad have shown us. However, it is unsurprising that the existence of such a commercial threatens people who do not want to give up their privileges and who are scared of how the world might look like if white men were not dominating every prestigious field. And I mean, they have good reason to be afraid. Because many people, including myself, are celebrating the decline of "traditional values". And we won't go back to the 1950s. Not happening. Not with us.
less sexism and less toxic masculinity means less violence!
The next generation of men will thank us when they can be who they are, when they are allowed to show weakness – even in the bedroom. And not just them. Women and LGBT+ people will be much happier, too, because less sexism and less toxic masculinity means less violence!
We have to start talking about men's sexualities (yes, plural!). Not in a laddish, immature way like it is usually done, but in a sincere and caring manner as "Sex Education" models successfully. Because men's mental health matters. Because we all matter.
Further reading:
Connell, R.W. 2000. The men and the boys. Berkeley: University of California Press.
Connell, R.W. 2005. Masculinities. 2nd ed. Cambridge: Polity.
Kimmel, M.S. 2013. Masculinity as homophobia: fear, shame and silence in the construction of gender identity IN: Adams, M. et al. (eds.) Readings for diversity and social justice. New York: Routledge, pp.329-334.
Kimmel, M.S., Hearn, J. and Connell, R.W. (eds.) 2005. Handbook of studies on men and masculinities. Thousand Oaks (California), London, New Delhi: Sage.
Milestone, K. and Meyer, A. 2012. Gender and popular culture. Cambridge: Polity Press.
---
About the author:
Ursula Spindler (MA Sexuality Studies) qualified as a sex counsellor (isp) in 2017.
She is currently studying integrative psychotherapy in London and loves snails, coffee and sex-positive feminism.