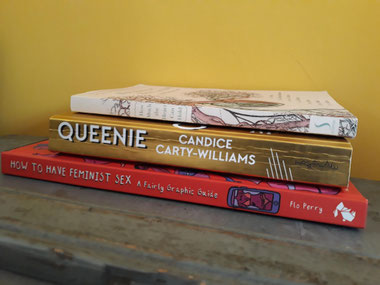 It was probably unavoidable, and many people expected that it would come and prepared for it, mentally and physically. For others it came as a surprise, not leaving them much time to bring their thoughts in order and get ready for Lockdown II. I hope you will all get through this okay: mentally, financially, physically, romantically, …
My workshops are hibernating until all of this is over, I am afraid. I know that many facilitators offer workshops online, but I decided not to do it. Talking about sex and relationships needs, in my opinion, a space that is very well held and I am not confident that I could offer this online. I look forward to the time when we will be able to sit in a room together again, when we will be able to share and heal in person, when we will be able to hold each other – both psychologically and physically.
For now, I thought I give you some ideas of what you could read and watch during these cold autumn- and winter months: keeping the warmth in and the boredom out.
How to have feminist sex. A fairly graphic guide. By Flo Perry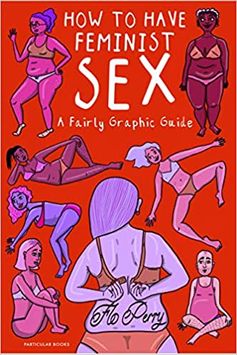 Flo Perry's guide (Particular Books 2019) on how to have feminist sex is brilliant, funny (!!!) and so important. It covers everything from body image, to the myth of the 'breaking hymen' and virginity, to awkward dating, kinks, squirting, you name it.
She shows how we can move from being our worst enemies (#bodyimage) to becoming our own besties ("I like to eat my super-indulgent chocotastic gateau in the bath. After a luxurious self-massage.").
There are only two things that bothered me:
1) Her dislike of the word 'vulva' and her preference for the word 'vagina'. Personally, it really bothers me when people, who should know better, use the word vagina when they are talking about their vulva. If you are unsure about the difference, check out his cute video by Planned Parenthood:
https://www.youtube.com/watch?v=SiOE7DsCJlM&feature=youtu.be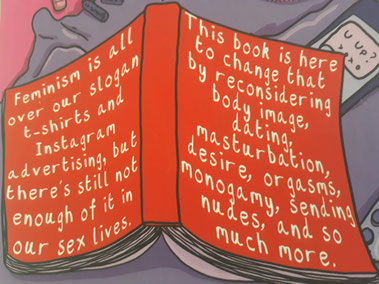 2) No page numbers. Really? WTF? This might not bother a lot of people, but it sure bothers me. Why would such a great book not have page numbers? How am I supposed to quote correctly from the book? I can't! It's weird.
My love for this book isn't diminished by those facts though & I think it's the perfect read (and Christmas present!) when you don't want to think about Corona and what else is wrong in the world, but about yourself and how you fuck and love.
Queenie. By Candice Carty-Williams (Trapeze 2019)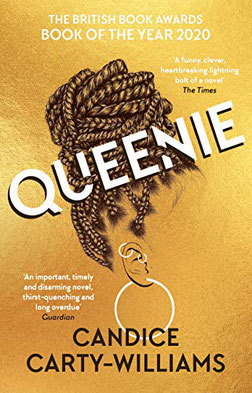 I practically inhaled this book. It is funny, sexy, dark, heart-breaking and relatable. This book has won and is shortlisted for so many prizes – it is pretty incredible!
Candice Carty-Williams absolutely deserves all this praise. She has given voice to Black women, living, loving and struggling in London.
Queenie is the best kind of 'chick-lit' heroine & she is the best company you could wish for on your couch on a cold evening. I am not going to write more, simply because I don't want to spoil it for you!
Btw. Please support your local bookshop, especially during lockdown:
https://uk.bookshop.org/books/queenie-british-book-awards-book-of-the-year/9781409180074
How much the heart can hold. Seven Stories on Love (Sceptre 2016)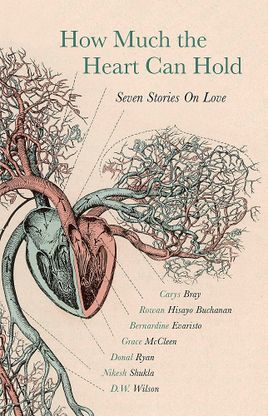 The title might sound cheesy – the book certainly isn't. None of the stories are.
These short stories by Carys Bray, Rowan Hisayo Buchanan, Bernadine Evaristo, Grace McCleen, Donal Ryan, Nikesh Shukla, D.W. Wilson and Phoebe Roy are all worth reading.
Confusingly, the version of the book that I have consists of eight short stories, not seven as the title suggests (the eighth story must not have been part of the first edition), but well…
The authors, all award-winning and fantastic, explore different and wide-ranging concepts of love: from self-love, family-love, affection and love for the world to obsessive love.
It is, at times, a brutal exploration and not a light read. Good literature hardly ever is though.
During a time in which we can't see all or most of our loved ones, while being stuck at home alone or with our family or flatmates (who we might love very much, but don't want to be around 24/7), this journey through the diversity of love can be very powerful.
Good Trouble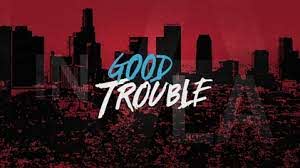 But let's not kid ourselves. We won't spend all our free time reading, will we?
If you're looking for a sexy, funny, dramatic and zeitgeisty series to fill your evenings Good Trouble is the one for you. It is a spin-off of The Fosters, which I have to admit I haven't seen yet.
Good Trouble (created by Joanna Johnson, Bradley Bredeweg and Peter Paige) is about two sisters Cellie (Maia Mitchell) and Mariana (Cierra Ramirez), who have just moved to LA. We watch them succeed and struggle professionally and romantically while living at The Coterie, a communal living space.
Their housemates are the ones who make the series so good. There is Malika (Zuri Adele) who is a Black Lives Matter activist, Davia (Emma Hunton) who tries her best as a body-positivity influencer, Gael (Tommy Martinez) who is responsible for the sexiest scenes with both men and women in the series, Alice (Sherry Cola) who is a super funny Asian lesbian and kind of the mother of the group and Dennis (Josh Pence) who struggles after a very traumatic loss.
The series is a bit too packed with identity politics, however I think this is what makes it that zeitgeisty. There is no way not to love Mariana for explaining how there is a Gender and a Race Pay Gap and how they intersect or Jazmin (Hallie Sahir) for being trans and proud on her adult Quinceañera. #staywoke
Good Trouble is available to watch on BBC iPlayer.
---
About the author:
Ursula Spindler (MA Sexuality Studies) qualified as a sex counsellor (isp) in 2017.
She is currently studying integrative psychotherapy in London and loves snails, coffee and sex-positive feminism.